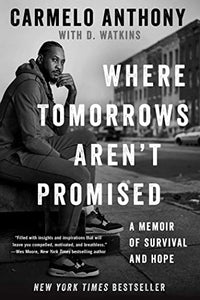 | | |
| --- | --- |
| Author/Contributor(s): | Anthony, Carmelo ; Watkins, D |
| Publisher: | Gallery Books |
| Date: | 10/04/2022 |
| Binding: | Paperback |
| Condition: | NEW |
From iconic NBA All-Star Carmelo Anthony comes a New York Times bestselling memoir about growing up in the housing projects of Red Hook and Baltimore--a brutal world Where Tomorrows Aren't Promised.
For a long time, Carmelo Anthony's world wasn't any larger than the view of the hoopers and hustlers he watched from the side window of his family's first-floor project apartment in Red Hook, Brooklyn. He couldn't dream any bigger than emulating his older brothers and cousin, much less going on to become a basketball champion on the world stage. He faced palpable dangers growing up in the housing projects of Red Hook and West Baltimore's Murphy Homes (a.k.a. Murder Homes, subject of HBO's
The Wire
). He navigated an education system that ignored, exploited, or ostracized him. He suffered the untimely deaths of his closely held loved ones. He struggled to survive physically and emotionally. But with the strength of family and the guidance of key mentors on the streets and on the court, he pushed past lethal odds to endure and thrive. By the time Carmelo found himself at the NBA Draft at Madison Square Garden in 2003 preparing to embark on his legendary career, he wondered:
How did a kid who'd had so many hopes, dreams, and expectations beaten out of him by a world of violence, poverty, and racism make it here at all?
Carmelo's story is one of strength and determination; of dribbling past players bigger and tougher than him, while also weaving around vial caps and needles strewn across the court; where dealers and junkies lined one side of the asphalt and kids playing jacks and Double Dutch lined the other; where rims had no nets, and you better not call a foul--a place
Where Tomorrows Aren't Promised
.