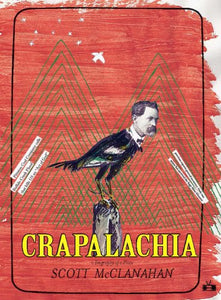 | | |
| --- | --- |
| Author/Contributor(s): | McClanahan, Scott |
| Publisher: | Two Dollar Radio |
| Date: | 03/19/2013 |
| Binding: | Paperback |
| Condition: | NEW |
*One of the Best Books of 2013 --The Millions, Flavorwire, Dazed & Confused, The L Magazine, Time Out Chicago
McClanahan's prose is miasmic, dizzying, repetitive. A rushing river of words that reflects the chaos and humanity of the place from which he hails. [McClanahan] aims to lasso the moon... He is not a writer of half-measures. The man has purpose. This is his symphony, every note designed to resonate, to linger. --New York Times Book Review
Crapalachia is a portrait of Scott McClanahan's formative years, coming of age in rural West Virginia, during a stretch of time where he was deeply influenced by his Grandma Ruby and Uncle Nathan, who suffered from cerebral palsy.
Peopled by colorful characters and their quirky stories, Crapalachia interweaves oral folklore and area history, providing an ambitious and powerful snapshot of overlooked Americana.
Beyond the artistry, there is an optimism, a genuine love for people and the past and memories. Even more, there is a grasp to bridge the disconnect between reader and writer, for McClanahan's stories to bind us closer to one another.
Crapalachia is the genuine article: intelligent, atmospheric, raucously funny and utterly wrenching. McClanahan joins Daniel Woodrell and Tom Franklin as a master chronicler of backwoods rural America. --The Washington Post