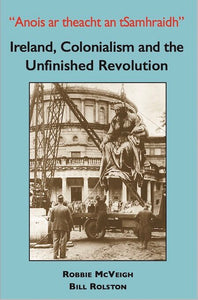 | | |
| --- | --- |
| Author/Contributor(s): | McVeigh, Robbie ; Rolston, Bill |
| Publisher: | Beyond the Pale Books |
| Date: | 05/01/2021 |
| Binding: | Paperback |
| Condition: | NEW |
Colonialism is at the heart of making sense of Irish history and contemporary politics across the island of Ireland. In this exhaustive analysis, England's oldest colony is considered in the context of the history of colonisation and anti-colonial politics throughout the world. In painstaking detail, McVeigh and Rolston chart the centuries leading to the Act of Union, the struggles for Irish independence and the legacies of partition from 1921. One hundred years later, the Union is in crisis and alternatives to partition are being seriously considered outside the republican tradition for the first time in generations. The conclusion is optimistic. In the words of Pádraig Pearse:
Anois ar theacht an tSamhraidh – now the summer is coming.
Endorsements
'This book brilliantly analyzes the history and legacy of colonialism and resistance in Ireland and beyond. In this moment where the whole planet is in flux, this powerful account offers indispensable insights for us all.'
Barbara Ransby Professor of Black Studies and History, University of Illinois, and author of Making All Black Lives Matter: Reimagining Freedom in the Twenty-First Century
'Timely, vital and necessary, a most powerful and captivating account of the continuing pull of colonialism – and its dark, lingering legacies.'
Philippe Sands International Human Rights lawyer, and author of East West Street: On the Origins of Genocide and Crimes against Humanity.
'With an 800 year history of harsh and often murderous foreign domination, Ireland provides ample evidence for the interplay of imperialism, colonialism and colonial state structure, along with race, class, and religion, topics explored here with subtlety and insight both in Ireland's specific colonial experience and quest for decolonization, and in global history more generally. A very impressive contribution to understanding our world, how it arose, and why it must dramatically change.
Noam Chomsky Social critic and political activist, and author of Consequences of Capitalism: Manufacturing Discontent and Resistance
'The election of Joe Biden as President of the United States reminds me of the old adage that Ireland is the only country in the world where English is spoken and the Irish don't rule. Biden's term in office will focus minds on Ireland and its peace process. Why such a peace process was necessary, why it needs protection, and why the authors believe that ultimately Ireland's future depends on breaking the colonial link, is at the core of this audacious and fascinating book.'
Albie Sachs Anti-Apartheid activist and former judge on the Constitutional Court of South Africa, and author of The Soft Vengeance of a Freedom Fighter