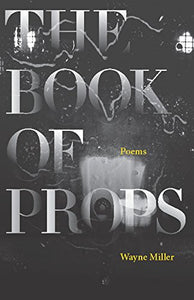 | | |
| --- | --- |
| Author/Contributor(s): | Miller, Wayne |
| Publisher: | Milkweed Editions |
| Date: | 03/01/2009 |
| Binding: | Paperback |
| Condition: | NEW |
Elegant, learned, sensual, The Book of Props offers mesmerizing images of the scrim of the world, capturing both representation and inspiration.
Mediating claims between the attention objects demand of us and the effects of perception on time, these poems diagram the shifting geometries of human relationships. A tightrope walker who travels on telephone wires; angels, scarecrows, friends, and lovers--the speakers in The Book of Props often desire to hold time still, even as they acknowledge that to do so would actually mean the death of love, of experience. These poems--including a series presented in an innovative film script format--constitute an imaginative yet authentic inquiry into the varied constructs in which we define love.
Inventive and engaging, The Book of Props is a poetic and philosophical endeavor to place oneself in the world.