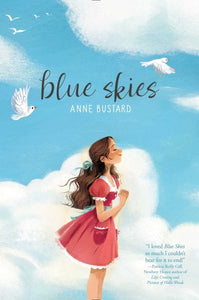 | | |
| --- | --- |
| Author/Contributor(s): | Bustard, Anne |
| Publisher: | Simon & Schuster Books for Young Readers |
| Date: | 03/16/2021 |
| Binding: | Paperback |
| Condition: | NEW |
"I loved Blue Skies so much I couldn't bear for it to end!" --Patricia Reilly Giff, Newbery Honor author of Lily's Crossing and Pictures of Hollis Woods
"A tender story of grief and the gentle comfort of loved ones." --Kirkus Reviews
"An intimate account of grief and longing...sympathetically drawn." --Booklist
For fans of Kate DiCamillo's Louisiana's Way Home, this heartwarming novel tells the story of ten-year-old Glory Bea as she prepares for a miracle of her very own.
Glory Bea Bennett knows that miracles happen in Gladiola, Texas, population 3,421. After all, her grandmother--the best matchmaker in the whole county--is responsible for thirty-nine of them. Now, Glory Bea needs a miracle of her own. The war ended three years ago, but Glory Bea's father never returned home from the front in France. Glory Bea understands what Mama and Grams and Grandpa say--that Daddy died a hero on Omaha Beach--yet deep down in her heart, she believes Daddy is still out there. When the
Gladiola Gazette
reports that one of the boxcars from the Merci Train (the "thank you" train)--a train filled with gifts of gratitude from the people of France--will be stopping in Gladiola, she just knows Daddy will be its surprise cargo. But miracles, like people, are always changing, until at last they find their way home.