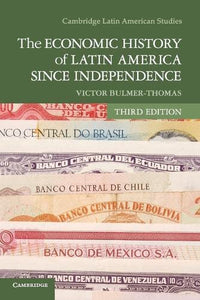 | | |
| --- | --- |
| Author/Contributor(s): | Bulmer-Thomas, Victor |
| Publisher: | Cambridge University Press |
| Date: | 08/05/2014 |
| Binding: | Paperback |
| Condition: | NEW |
This study, now in a revised and updated third edition, covers the economic history of Latin America from independence in the 1820s to the present. It stresses the differences between Latin American countries while recognizing the external influences to which the whole region has been subject. Victor Bulmer-Thomas notes the failure of the region to close the gap in living standards between it and the United States and explores the reasons. He also examines the new paradigm taking shape in Latin America since the debt crisis of the 1980s and asks whether this new economic model will be able to bring the growth and improvement in equity that the region desperately needs. This third edition contains a wealth of new material that draws on the new research in the area in the past ten years.