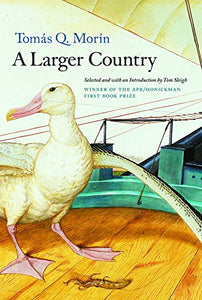 | | |
| --- | --- |
| Author/Contributor(s): | Morin, Tomas Q ; Sleigh, Tom |
| Publisher: | American Poetry Review |
| Date: | 11/06/2012 |
| Binding: | Paperback |
| Condition: | NEW |
"Tomas Morín's poems are as infectious and spooky and darkly humorous as the Brothers Grimm, as shapely and colloquial and eloquent as John Donne, and as skeptical and addicted to history-as-fable as Zbigniew Herbert."--Tom Sleigh, from the introduction
"An energetic and moving book of fantasias and elegies."--Edward Hirsch
Selected from over one thousand manuscripts for the APR/Honickman First Book Prize, Tomás Q. Morín's debut is rich with the mastery of Morín's lush storytelling. From war-torn images of Eastern Europe in the mid-1900s to modern-day glimpses of the American southwest, these poems are bold and brightly imagined.
From "Castrato":
What do you call a gifted soprano
with no balls who is too ugly
to play the heroine, is never tall enough
for the role of the hero? Wait a quarter century
and you can fast forward past the floggings,
the endless sermons, the giggles under alders
with curious girls, busted noses, carped
sisters with chubby boys, the innumerable
nights of sleeplessness. Better to skip all this
unpleasantness and descend the last rise
toward the coast where you can stroll the docks
in the short light of winter, get lost
in the cloudbank, let the sea ripen
in your hair, scan the flat water
for the handsome young men . . .
Tomás Q. Morín was born in Texas and educated at Texas State University and Johns Hopkins University. He lives in San Marcos, Texas, and teaches at Texas State University.