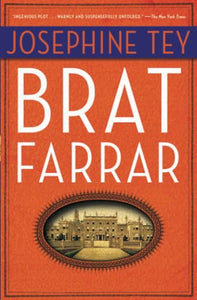 | | |
| --- | --- |
| Author/Contributor(s): | Tey, Josephine |
| Publisher: | Scribner Book Company |
| Date: | 09/02/1997 |
| Binding: | Paperback |
| Condition: | NEW |
In this tale of mystery and suspense, a stranger enters the inner sanctum of the Ashby family posing as Patrick Ashby, the heir to the family's sizable fortune. The stranger, Brat Farrar, has been carefully coached on Patrick's mannerism's, appearance, and every significant detail of Patrick's early life, up to his thirteenth year when he disappeared and was thought to have drowned himself. It seems as if Brat is going to pull off this most incredible deception until old secrets emerge that jeopardize the imposter's plan and his life. Culminating in a final terrible moment when all is revealed, Brat Farrar is a precarious adventure that grips the reader early and firmly and then holds on until the explosive conclusion.