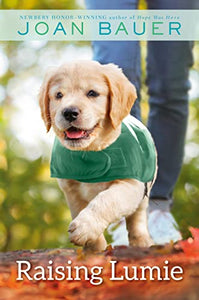 | | |
| --- | --- |
| Author/Contributor(s): | Bauer, Joan |
| Publisher: | Viking Books for Young Readers |
| Date: | 05/04/2021 |
| Binding: | Paperback |
| Condition: | NEW |
A poignant, hopeful story of a girl and her puppy from Newbery Honor-winning author Joan Bauer, now in paperback!
Olive Hudson desperately wants a dog. But that doesn't seem to be a possibility right now. Newly orphaned, she's moving in with the half sister she hardly knows and their life is too chaotic to include a dog. But then something wonderful happens: Olive gets a chance to raise Lumie, a guide dog puppy. Discipline. Rules. Lots of hugs. Only the best of the best puppies continue on to become guide dogs, and of course Olive wants Lumie to be chosen. But if she is, that means that Olive will lose her. Once again, the incomparable Joan Bauer tells a touching story that is full of heart and warmth and unabashed idealism.