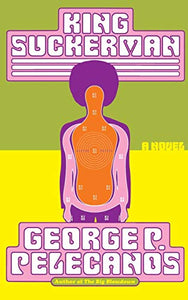 | | |
| --- | --- |
| Author/Contributor(s): | Pelecanos, George P |
| Publisher: | Little Brown and Company |
| Date: | 12/01/1971 |
| Binding: | Hardcover |
| Condition: | NEW |
It's the week leading up to the Bicentennial celebration in Washington, D.C., and King Suckerman is the hot new blaxploitation film that's got everyone talking. Small-time dealer Dimitri Karras and his friend, record-store owner Marcus Clay, are out looking to score some weed when they stumble in on a big deal gone bad -- and pick up some cash that isn't theirs. Pursued by a trigger-happy gangster looking to settle the score, Dimitri and Marcus suddenly find that they're players in a savage game of cross and double-cross....
Brilliantly evoking the retrocool of seventies music, clothes, and movies, King Suckerman is bold, real, and violent -- a supercharged thriller in the hardboiled tradition of Jim Thompson, David Goodis, and Pulp Fiction. Here is George Pelecanos's strongest work to date -- a book that is certain to win him a whole new audience of admirers.