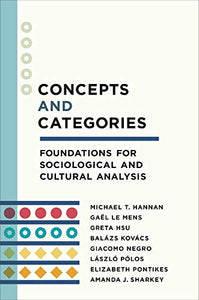 | | |
| --- | --- |
| Author/Contributor(s): | Hannan, Michael T ; Le Mens, Gaël ; Hsu, Greta ; Kovács, Balázs ; Negro, Giacomo ; Pólos, László ; Pontikes, Elizabeth ; Sharkey, Amanda J |
| Publisher: | Columbia University Press |
| Date: | 08/13/2019 |
| Binding: | Hardcover |
| Condition: | NEW |
Why do people like books, music, or movies that adhere consistently to genre conventions? Why is it hard for politicians to take positions that cross ideological boundaries? Why do we have dramatically different expectations of companies that are categorized as social media platforms as opposed to news media sites? The answers to these questions require an understanding of how people use basic concepts in their everyday lives to give meaning to objects, other people, and social situations and actions. In this book, a team of sociologists presents a groundbreaking model of concepts and categorization that can guide sociological and cultural analysis of a wide variety of social situations. Drawing on research in various fields, including cognitive science, computational linguistics, and psychology, the book develops an innovative view of concepts. It argues that concepts have meanings that are probabilistic rather than sharp, occupying fuzzy, overlapping positions in a "conceptual space." Measurements of distances in this space reveal our mental representations of categories. Using this model, important yet commonplace phenomena such as our routine buying decisions can be quantified in terms of the cognitive distance between concepts.
Concepts and Categories
provides an essential set of formal theoretical tools and illustrates their application using an eclectic set of methodologies, from micro-level controlled experiments to macro-level language processing. It illuminates how explicit attention to concepts and categories can give us a new understanding of everyday situations and interactions.