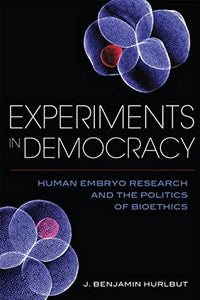 | | |
| --- | --- |
| Author/Contributor(s): | |
| Publisher: | Columbia University Press |
| Date: | 07/26/2022 |
| Binding: | Paperback |
| Condition: | NEW |
Human embryo research touches upon strongly felt moral convictions, and it raises such deep questions about the promise and perils of scientific progress that debate over its development has become a moral and political imperative. From in vitro fertilization to embryonic stem cell research, cloning, and gene editing, Americans have repeatedly struggled with how to define the moral status of the human embryo, whether to limit its experimental uses, and how to contend with sharply divided public moral perspectives on governing science.
Experiments in Democracy presents a history of American debates over human embryo research from the late 1960s to the present, exploring their crucial role in shaping norms, practices, and institutions of deliberation governing the ethical challenges of modern bioscience. J. Benjamin Hurlbut details how scientists, bioethicists, policymakers, and other public figures have attempted to answer a question of great consequence: how should the public reason about aspects of science and technology that effect fundamental dimensions of human life? Through a study of one of the most significant science policy controversies in the history of the United States, Experiments in Democracy paints a portrait of the complex relationship between science and democracy, and of U.S. society's evolving approaches to evaluating and governing science's most challenging breakthroughs.