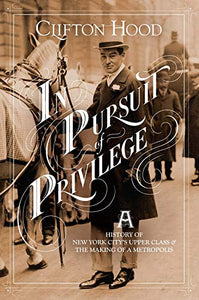 | | |
| --- | --- |
| Author/Contributor(s): | Hood, Clifton |
| Publisher: | Columbia University Press |
| Date: | 07/23/2019 |
| Binding: | Paperback |
| Condition: | NEW |
A history that extends from the 1750s to the present, In Pursuit of Privilege recounts upper-class New Yorkers' struggle to create a distinct world guarded against outsiders, even as economic growth and democratic opportunity enabled aspirants to gain entrance. Despite their efforts, New York City's upper class has been drawn into the larger story of the city both through class conflict and through their role in building New York's cultural and economic foundations.
In Pursuit of Privilege describes the famous and infamous characters and events at the center of this extraordinary history, from the elite families and wealthy tycoons of the eighteenth and nineteenth centuries to the Wall Street executives of today. From the start, upper-class New Yorkers have been open and aggressive in their behavior, keen on attaining prestige, power, and wealth. Clifton Hood sharpens this characterization by merging a history of the New York economy in the eighteenth century with the story of Wall Street's emergence as an international financial center in the late nineteenth and early twentieth centuries, as well as the dominance of New York's financial and service sectors in the 1980s. Bringing together several decades of upheaval and change, he shows that New York's upper class did not rise exclusively from the Gilded Age but rather from a relentless pursuit of privilege, affecting not just the urban elite but the city's entire cultural, economic, and political fabric.