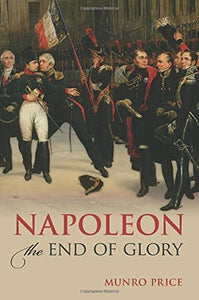 | | |
| --- | --- |
| Author/Contributor(s): | Price, Munro |
| Publisher: | Oxford University Press, USA |
| Date: | 09/02/2014 |
| Binding: | Hardcover |
| Condition: | NEW |
On April 20, 1814, after a dizzying series of battles, campaigns, and diplomatic intrigues, a defeated Napoleon Bonaparte made his farewell speech to the Old Guard in the courtyard of the Chateau de Fontainebleau and set off for exile on the island of Elba. Napoleonic legend asserts that the Emperor was brought down by foreign powers determined to destroy him and discredit his achievements, with the aid of highly placed domestic traitors. Others argue that once Napoleon's military defeats began in 1812, his fall became inevitable. But in fact, as Munro Price shows in this brilliant new book, Napoleon's fall could have been avoided altogether. Exploring a critical and often neglected period of Napoleonic history between 1812 and 1814,
Napoleon: The End of Glory
offers a more complete picture of the Emperor's decline and fall than any previous work. Price analyzes the political, military, and diplomatic events of the period, from Napoleon's disastrous invasion of Russia in 1812 to the multiple failed attempts by Austria to broker peace. He illuminates the dynamic relationships between Napoleon and the wily Austrian foreign minister Metternich-whose desire for equilibrium within the European states system clashed with Napoleon's unshakeable belief in hegemony and subjection-and the charming and enigmatic Alexander I of Russia. And he explores the lasting impact of the bloody Terror of the French Revolution on Napoleon's decisions once he came to power. Rejecting the assumption that defeat was unavoidable, Price considers instead why Napoleon failed to explore a compromise peace that could have allowed him to keep his crown, arguing that the answer to this question has powerful implications for our understanding of the Napoleonic wars. Ultimately, Price provides a convincing portrait of the Emperor's decline, exposing his blindness, intransigence and miscalculations; his preference for war and his declining ability to wage it; and his nearly pathological fear of a dishonorable peace. A deeply researched study of the moment of a great man's fall,
Napoleon: The End of Glory
forces us to reconsider Napoleon's character, motives, and the reasons for his spectacular failure.