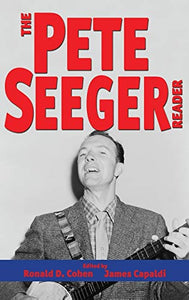 | | |
| --- | --- |
| Author/Contributor(s): | Cohen, Ronald D ; Capaldi, James |
| Publisher: | Oxford University Press, USA |
| Date: | 01/15/2014 |
| Binding: | Hardcover |
| Condition: | NEW |
Perhaps the most widely recognized figure in folk music and one of the most well-known figures in American political activism, Pete Seeger now belongs among the icons of 20th-century American culture. The road to his current status as activist and respected voice of folk music was long and often rough, starting from the moment he dropped out of Harvard in the late 1930s and picked up a banjo. Editors Ronald Cohen and James Capaldi trace Seeger's long and storied career, focusing on his work as not only a singer, but also on his substantial contributions as an educator, songwriter, organizer, publisher, and journalist. The son of musicians, Seeger began his musical career before World War II and became well-known in the 1950s as a member of the commercially popular Weavers, only to be blacklisted by much of the mainstream media in the 1960s because of his progressive politics, and to return to the music scene in subsequent decades as a tireless educator and activist.
The Pete Seeger Reader
gathers writings from numerous sources, mixing Seeger's own work with that of the many people who have, over the years, written about him. Many of the pieces have never before been republished, and cover his entire career. A figure of amazing productivity, influence, and longevity, Seeger is author of a life that has been both cast in heroic terms and vilified. The selections in this book draw from a full range of these perspectives and will inform as they entertain, bringing into focus the life and contributions of one of the most influential figures of the twentieth century.