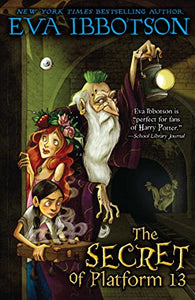 | | |
| --- | --- |
| Author/Contributor(s): | Ibbotson, Eva |
| Publisher: | Viking Books for Young Readers |
| Date: | 10/25/1999 |
| Binding: | Paperback |
| Condition: | NEW |
A forgotten door on an abandoned railway platform is the entrance to a magical kingdom--an island where humans live happily with mermaids, ogres, and other wonderful creatures. Carefully hidden from the world, the Island is only accessible when the door opens for nine days every nine years. When the beastly Mrs. Trottle kidnaps the Island's young prince, it's up to a strange band of rescuers to save him. But can the rescuers--an ogre, a hag, a wizard, and a fey--sneak around London unnoticed? Fans of Roald Dahl, Lewis Carroll, and E. Nesbit will delight in this comic fantasy.