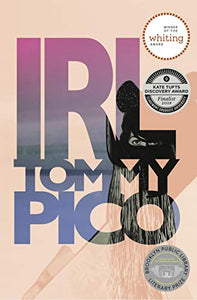 Note: This listing lets you purchase the book for donation to the Sexual Minorities Archives. If you order this book, it will be delivered directly to them and not to you.
| | |
| --- | --- |
| Author/Editor: | Pico, Tommy |
| Publisher: | Birds |
| Date: | 09/01/2016 |
| Binding: | Paperback |
| Condition: | NEW |
Poetry. Native American Studies. LGBT Studies. IRL is a sweaty, summertime poem composed like a long text message, rooted in the epic tradition of A.R. Ammons, ancient Kumeyaay Bird Songs, and Beyoncé's visual albums. It follows Teebs, a reservation-born, queer NDN weirdo, trying to figure out his impulses/desires/history in the midst of Brooklyn rooftops, privacy in the age of the Internet, street harassment, suicide, boys boys boys, literature, colonialism, religion, leaving one's 20s, and a love/hate relationship with English. He's plagued by an indecision, unsure of which obsessions, attractions, and impulses are essentially his, and which are the result of Christian conversion, hetero- patriarchal/colonialist white supremacy, homophobia, Bacardi, gummy candy, and not getting laid.

IRL asks, what happens to a modern, queer indigenous person a few generations after his ancestors were alienated from their language, their religion, and their history? Teebs feels compelled towards boys, burgers, booze, though he begins to suspect there is perhaps a more ancient goddess calling to him behind art, behind music, behind poetry.