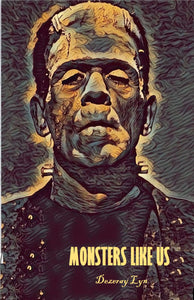 | | |
| --- | --- |
| Author/Contributor(s): | Lyn, Dezeray |
| Publisher: | Rebel Hearts Publishing |
| Date: | 2022 |
| Binding: | Paperback |
| Condition: | NEW |
We've all been in monster's haunted houses.
Here, monsters are in ours.
In this quirky collection of tales, monsters who've traditionally crept from dark corners, rolling fog and eerie woods to frighten us are living through the grave realities we face. A shape-shifting military leader is locked in endless war, a zombie fights to subvert land development of the cemetery, and a mummy nurses forgotten plague patients in a crumbling almshouse.
In this book, the door to human society creaks open to reveal Dracula battling Alzheimer's, Werewolf struggling anxiously to survive his overnight shift and an accursed senior class fighting to get through the school year in one piece.
What makes a monster?
What should we be afraid of?
Monsters?
Or monsters like us?