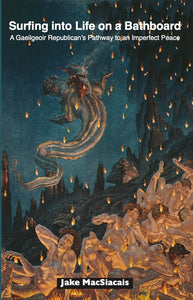 | | |
| --- | --- |
| Author/Contributor(s): | MacSiacais, Jake |
| Publisher: | Beyond the Pale Books |
| Date: | 06/01/2022 |
| Binding: | Paperback |
| Condition: | NEW |
This is the memoir of an Irish language activist and former IRA prisoner who was intimately involved in the peace process. Jake MacSiacais (Jackson) joined the republican movement at a very early age but resigned in 1997, shortly before the Good Friday Agreement. As a prominent republican, he was often at the centre of debates on strategy and tactics, as he reveals in this frank account of his political activity and family life.
He was imprisoned on two occasions and was a fluent Irish speaker when he began his second sentence in the H-Blocks in 1977. Immediately joining the 'blanket protest' and then the 'no-wash protest', Jake was in the Blocks during the trauma of the hunger strikes before his release from prison in April 1982. On release, Jake began to teach Irish and to throw himself into republican politics. He was northern editor of An Phoblacht and was at the heart of debates about electoral programmes, abstentionism and the peace process.
More recently, Jake worked for Forbairt Feirste (the Irish language development agency) which secured funding for the key projects behind the Gaeltacht Quarter.  At the height of this success, Jake was overwhelmed by depression and suffered a breakdown lasting a couple of years. Writing this autobiography from 2018 was part of his recovery.
"This is not a comfortable read, but it is his truth. If we are to seek reconciliation, we must understand each other's perspective, and for that reason, I commend this book to readers who may feel challenged by his previous actions and his current views." Terry Irwin, Chair of the Travelling Surgical Society of Great Britain and Ireland.
"He courageously reveals uncomfortable moments that few of us would be willing to reveal and takes us into his darkest of times. He tells us when he thinks he was right or wrong, but always leaves room for dispute and disagreement. His analysis of the fears and disappointments of the peace process is the best I have read."
Denis O'Hearn, Professor of Sociology  and Dean of Liberal Arts, University of Texas.
 "Jake's story is a universal story, while remaining genuinely Irish. It is the story of all those who struggle for freedom and justice, whether it be in Palestine, or the Basque Country, Western Sahara or Colombia, and it certainly leaves none of us unmoved. We all left a part of our lives in the H-Blocks with Bobby Sands and his comrades."
Joxe Pernando Barrena Arza MEP EH-Bildu.
 "Jake Jackson's memoir can make for uncomfortable reading because of its honesty and intimacy – the laying bare of a life lived during one of the longest-running conflicts of the late twentieth century in which he played an important part as a republican activist, a blanket man, and latterly a republican spokesperson grappling with the compromises involved in ceasefires and peace-building. But that is its very strength, that and the humour of an acute observer with a very sharp mind, who has no time for cant and does not balk at candour."
Danny Morrison, author of Then The Walls Came Down and All The Dead Voices.