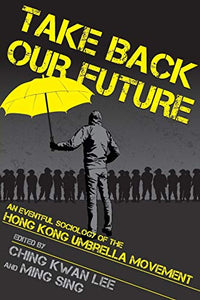 | | |
| --- | --- |
| Author/Contributor(s): | Lee, Ching Kwan ; Sing, Ming |
| Publisher: | Ilr Press Book |
| Date: | 10/01/2019 |
| Binding: | Paperback |
| Condition: | NEW |
In a comprehensive and theoretically novel analysis, Take Back Our Future unveils the causes, processes, and implications of the 2014 seventy-nine-day occupation movement in Hong Kong known as the Umbrella Movement. The essays presented here by a team of experts with deep local knowledge ask: how and why had a world financial center known for its free-wheeling capitalism transformed into a hotbed of mass defiance and civic disobedience?
Take Back Our Future argues that the Umbrella Movement was a response to China's internal colonization strategies--political disenfranchisement, economic subsumption, and identity reengineering--in post-handover Hong Kong. The contributors outline how this historic and transformative movement formulated new cultural categories and narratives, fueled the formation and expansion of civil society organizations and networks both for and against the regime, and spurred the regime's turn to repression and structural closure of dissent. Although the Umbrella Movement was fraught with internal tensions, Take Back Our Future demonstrates that the movement politicized a whole generation of people who had no prior experience in politics, fashioned new subjects and identities, and awakened popular consciousness.