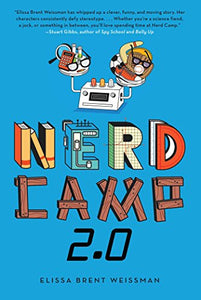 | | |
| --- | --- |
| Author/Contributor(s): | Weissman, Elissa Brent ; Willis, Drew |
| Publisher: | Atheneum Books for Young Readers |
| Date: | 05/12/2015 |
| Binding: | Paperback |
| Condition: | NEW |
Gabe's happily headed back to Nerd Camp--but can he handle a cool-kid invasion?
For Gabe, the equation for summer bliss equals six glorious weeks of rigorous learning immersion at the Summer Center for Gifted Enrichment--aka, Nerd Camp. Last year was amazing, and this summer will be even better. At least, that's what Gabe thinks...until a new variable is introduced. Zack, Gabe's cool stepbrother, was supposed to attend a camp nearby, but in the aftermath of a recent wildfire, Zack's camp and nerd camp will be sharing territory. As these two very different worlds collide, can both camps--and both stepbrothers--survive the summer?