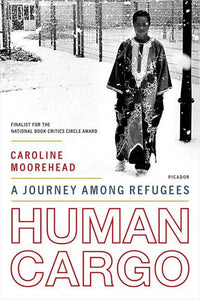 | | |
| --- | --- |
| Author/Contributor(s): | Moorehead, Caroline |
| Publisher: | Picador |
| Date: | 03/21/2006 |
| Binding: | Paperback |
| Condition: | NEW |
National Book Critics Circle Award Finalist

Traveling for nearly two years and across four continents, Caroline Moorehead takes readers on a journey to understand why millions of people are forced to abandon their homes, possessions, and families in order to find a place where they may, quite literally, be allowed to live. Moorehead's experience living and working with refugees puts a human face on the news, providing unforgettable portraits of the refugees she meets in Cairo, Guinea, Sicily, Lebanon, England, Australia, Finland, and at the U.S.-Mexico border. Human Cargo changes our understanding of what it means to have and lose a place in the world, and reveals how the refugee "problem" is on a par with global crises such as terrorism and world hunger.