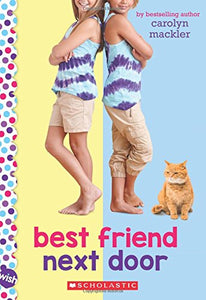 | | |
| --- | --- |
| Author/Contributor(s): | Mackler, Carolyn |
| Publisher: | Scholastic Paperbacks |
| Date: | 07/25/2017 |
| Binding: | Paperback |
| Condition: | NEW |
Printz Honor and bestselling author Carolyn Mackler joins our charming WISH line with this story of a friendship between two girls.Meet Hannah. Her name is a palindrome. Her birthday is on New Year's. She wishes she had a cat. She's medium height and a little awkward. Her life has NOT been fun lately -- her dad and stepmom are having a baby and, worst of all, her best friend next door just moved away. Now a new girl is here, taking over her best friend's bedroom . . . and her own identity.Meet Emme. Her name is a palindrome. Her birthday is on New Year's. She loves her enormous orange cat. She's so short that last week she was mistaken for a kindergartner. She's found moving hard . . . but at least there's the girl next door, Hannah. Maybe they'll become friends?While Hannah and Emme are alike in so many ways, they're different in some wrong ways, too. Is this the perfect friendship . . . or a recipe for disaster?From award-winning writer Carolyn Mackler comes a funny, smart story about finding out who your best friends are, in good times and bad.