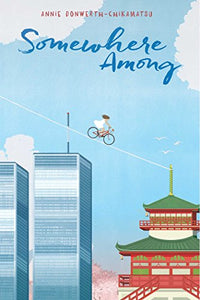 | | |
| --- | --- |
| Author/Contributor(s): | Donwerth-Chikamatsu, Annie ; Chaghatzbanian, Sonia |
| Publisher: | Atheneum Books |
| Date: | 04/25/2017 |
| Binding: | Paperback |
| Condition: | NEW |
In this beautiful and haunting debut novel in verse, called "a tender piece on connectedness" in a starred review from Kirkus Reviews, a Japanese-American girl struggles with the loneliness of being caught between two worlds when the tragedy of 9/11 strikes an ocean away.
Eleven-year-old Ema has always been of two worlds--her father's Japanese heritage and her mother's life in America. She's spent summers in California for as long as she can remember, but this year she and her mother are staying with her grandparents in Japan as they await the arrival of Ema's baby sibling. Her mother's pregnancy has been tricky, putting everyone on edge, but Ema's heart is singing--finally, there will be someone else who will understand what it's like to belong and not belong at the same time. But Ema's good spirits are muffled by her grandmother who is cold, tightfisted, and quick to reprimand her for the slightest infraction. Then, when their stay is extended and Ema must go to a new school, her worries of not belonging grow. And when the tragedy of 9/11 strikes, Ema, her parents, and the world watch as the twin towers fall... As her mother grieves for her country across the ocean--threatening the safety of her pregnancy--and her beloved grandfather falls ill, Ema feels more helpless and hopeless than ever. And yet, surrounded by tragedy, Ema sees for the first time the tender side of her grandmother, and the reason for the penny-pinching and sternness make sense--her grandmother has been preparing so they could all survive the worst. Dipping and soaring,
Somewhere Among
is the story of one girl's search for identity, a sense of peace, and the discovery that hope can indeed rise from the ashes of disaster.