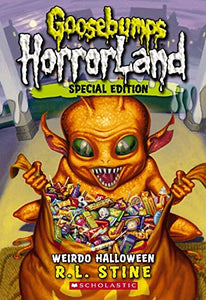 | | |
| --- | --- |
| Author/Contributor(s): | Stine, R L |
| Publisher: | Scholastic Paperbacks |
| Date: | 07/01/2010 |
| Binding: | Paperback |
| Condition: | NEW |
Take a little Horror home with you! An extra-long, extra-scary Halloween Special Edition: a HorrorLand first!After a trip to HorrorLand, Meg and her brother, Chris, can't wait to celebrate Halloween. Until that Weirdo in the baby alien costume shows up and begins to wreak havoc on their lives. They just can't seem to get him to leave. And Meg's beginning to suspect that his orange skin isn't a halloween disguise...What happens in the world's scariest theme park on the most frightening day of the year? Meg is about to find out when she's mysteriously called back to HorrorLand on Halloween. Can she survive the trick or treachery?