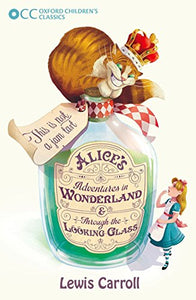 | | |
| --- | --- |
| Author/Contributor(s): | Carroll, Lewis |
| Publisher: | Oxford University Press, USA |
| Date: | 09/01/2014 |
| Binding: | Paperback |
| Condition: | NEW |
What's at the bottom of the rabbit hole? What happens when you step through the looking glass? Join Alice as she tumbles into a strange world where curious things are normal, and normal things are unheard of. Meet the unforgettable characters such as the Mad Hatter, the Cheshire Cat, and Tweedledee and Tweedledum that make up the enchanting world of wonderland. This edition of the classic story not only includes the unabridged text of the two Alice books, but it is also full of materials to help you get the most out of the story.
About the Series:
Oxford Children's Classics presents original and unabridged stories that both children and parents love in beautifully designed editions. Included with each story are bonus materials, including reviews and recommendations, fun author profiles, quizzes, and more! Discover a whole new world of adventure with the classics.